Discover more from The Blog of KSCHatch
The collected writings of a super queer bendy-spoonie anti-fascist dharma nerd secret librarian polymath
💖 Sparkling Queer Content 🌈: Miscellany
A delightful series of posts uplifting queer media & creators
Reading time: About 6 minutes
It's June! The month officially adopted by the queermos and gender rebels as a time to celebrate the glorious four-dimensional-hyper-cube of gender and sexuality!
For my final entry this June I am sharing *sparkling queer content* that doesn't really fit into a specific category. Or rather, it's content from several different categories and June is only four weeks long, so I've thrown together YouTube content, podcasts, "influencers" and a theatre production into one post.
I am a librarian and historian at heart (as well as a scientist and philosopher) and I have been collecting queer history, thought and culture since realising my own queerness. There is a dearth of information about the QILT2BAG+ community in your standard school curriculum despite queer people having always existed in every culture and community around the planet.1
We are here and we are philosophers and poets and playwrites and writers and artists and we have always been here contributing to society even while society has labelled us spinsters or our lovers "roommates". The following is *sparkling queer content* that feeds my sense of history, culture, and community.
May it do the same for you!
---
Sparkling Queer Miscellany
A Stormé Life mini-documentary
Stormé DeLarverie is a lesser-known queer ancestor and this mini-documentary about her life and legacy is a real gem. DeLarverie is one of the most bad-ass people I've ever learned about. Present at the Stonewall Uprising in 1969, she was a fierce protector of the queer community well into her eighties.2
She spoke openly about the intersectional experience of being a mixed kid and how that also played into her sense of gender. I identify with her a lot around the fluidity and playfulness of gender, which makes sense since we're both drag kings.
DeLarverie died at the ripe age of 93, which is incredible on its own but so much more so considering the toll of oppression and violence that cuts short the lives of far too many great civil rights community leaders.
I am grateful to Stormé and ancestors like her. Never forget that Pride began as an uprising.
Two of the greatest philosophers of our time and they're queer! Which is downright refreshing considering Philosophers Through History. Or more accurately, Philosophers We Learned About versus the ones we didn't.
Winn's elaborate sets and movie-length videos are a delight for all the senses. She often says everything I've been thinking but in an extravagant, sumptuous way.
Thorn is a cinnamon bun and someone who really understands how to teach effectively. Her crew does a brilliant job with costumes and makeup and she does a brilliant job explaining and making accessible complex and dense philosophical arguments and statements.
The Prince
As well as being a philosopher, Abigail Thorn is an actor and playwrite. You can watch her award winning production, The Prince, on Nebula. In fact, you really should go watch it. It's a fun multi-verse romp through gender identity using Shakespearean plays because obviously if you're creating a queer multi-verse it's gonna be a theatrical one.
I've known for a long time that Disco is really gay, but I didn't realise that it was gay from the start. Thankfully, we have Michael Hobbes to tell us how We're Wrong About Disco—it was always about subverting the status quo and supporting spaces for Black, brown and queer folks! Disco is gay AF!3 Also, this is one of the few episodes of You're Wrong About that doesn't come with a massive content warning! It's actually quite heartwarming!
ALOK on Instagram: "plot twist!! 😂 sign up for my mailing list (link in bio) for standup tour dates!"
Alok Menon
If you spend anytime on the Instas you will likely have encountered Alok Menon's body of work. They are a comedian/educator/fashion icon/poet/author speaking truth to power as they connect the dots between colonialism, gender oppression, racism, and cisheteropatriarchy. Also, their stand up is very good and very spicy in the best possible way.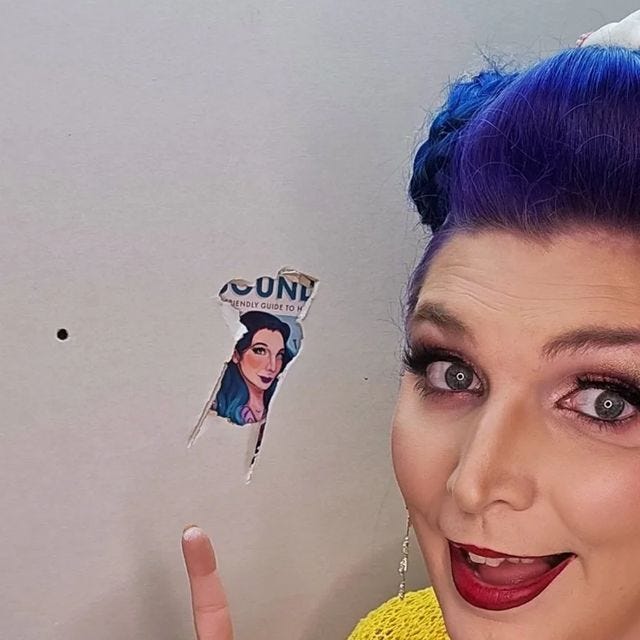 Mercury Stardust on Instagram: "My book isn't just great for reading it's great for patching a hole in the wall too!!! Please help "Safe & Sound: A Renter's Friendly Guide to Home Repair" be the
#1
book come it's release on Aug. 22nd. Pre-order it meow to help your friendly neighborhood Trans Handy Ma'am. Available everywhere you get your books online.
#bookgram
#lgbtqia
"
Trans Handy Ma'am (Mercury Stardust)
First of all, I am so here for trans folks choosing the most magical names for themselves.4 Mercury Stardust is a 10/10 name choice and it absolutely fits the Handy Pixie Dream Girl vibes of this blue-haired fixit-pixie. Stardust's content is so wholesome. She uses her platform to raise funds to directly support trans healthcare in the U.S! She helps renters take care of their homes in practical, easy, affordable ways. She also wrote a book you should totally buy either for yourself, as a gift, or to put in a local Little Free Library.
Rantasmo (Needs More Gay!)
My unicorn introduced me to Rantasmo's little YouTube channel years ago and I was instantly hooked. Unlike most of the YouTubers I follow, his videos are extremely short.
As well as covering media I am familiar with, Rantasmo's channel has introduced me to queer content I've come to love. His videos are insightful and a great guide for viewing media through a queer lens when it wasn't made to be explicitly queer, or understanding what is so good about explicit queer representation. He also covers some of the pitfalls of representation (like when we might get so precious about it we end up with Mary Sues instead of real human characters -) but in a really thoughtful, reflective way rather than the reductive "Thing Bad" way of a lot of online content.
He doesn't put out a lot of content these days, but his backlog is excellent and if you are looking for sweet gay uncle hangout vibes, you should go watch his stuff.
---
To my queer famkin: May you always remember that your life is precious and we need you and all the gifts you have to give to the world.
---
So tell me, who are some QILT2BAG creators with *sparkling queer content* that you recommend folks follow and learn from?
1
In fact, there was zero explicit QILT2BAG content taught in my entire twelve years of mandatory schooling. I hope things have changed for the next generation, at the very least in sex education if not in English and drama, where queers have always been abundant.
2
I love that this documentary gives a sense for how close the Stonewall rebellion is to today—it has yet to pass out of living memory!
4
Or any folks, really. Here is to choosing great names for ourselves if the ones we were given don't vibe.